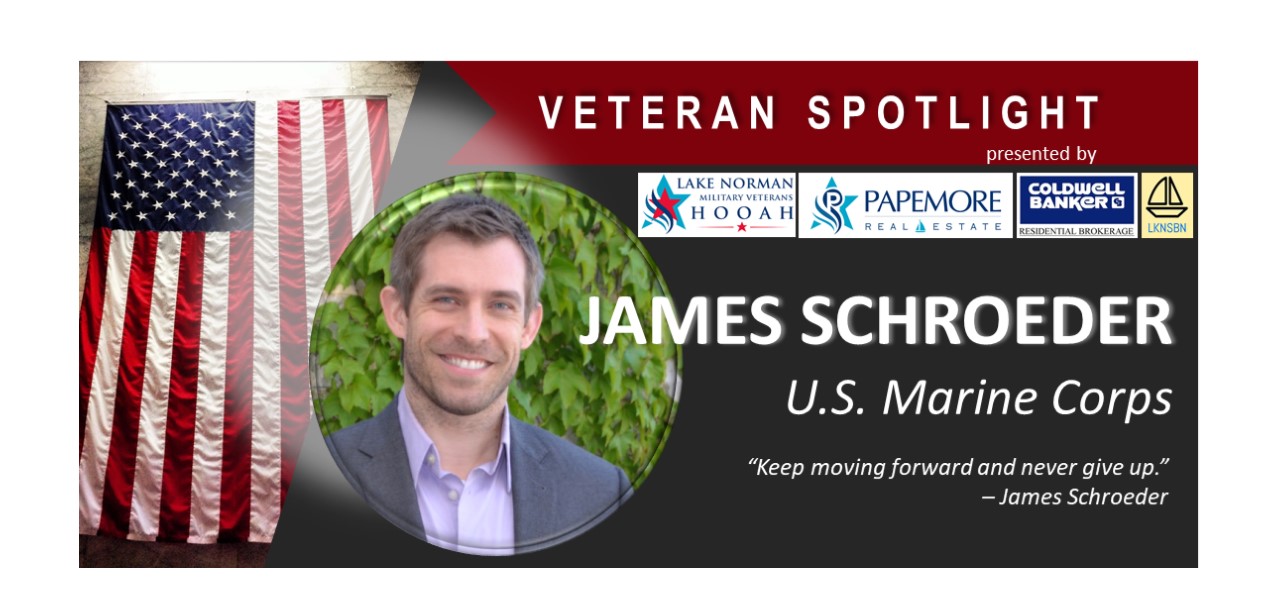 James Schroeder proudly served eight years in the United States Marine Corps as a Heavy Equipment Operator through summer of 2002, then as a Bulk Fuel Operator. Sergeant Schroeder deployed in support of Operation Iraqi Freedom and Enduring Freedom. In 2003, he deployed with the 6th Engineer Support Battalion, Det. 1, Bulk Fuel Co. B out of Green Bay, Wisconsin to Kuwait and embedded with Marines and soldiers on the front lines to provide fuel support as they headed north from Kuwait through Baghdad, Iraq.
"I will never forget interacting with the Iraqi people. It was my first interaction with people from another country and I was completely amazed by how similar their basic wants and needs were to mine; they wanted to be healthy, happy, and see their children be safe. Empathy is something that is completely undervalued and I will never forget those moments."
James and his wife, Dr. Nikhila Schroeder, are the founders of Allergenuity Health treating thousands of patients across the country affected by allergies. With a genuine "patient first" approach, they provide health care using innovative, scientifically-grounded, personalized treatment plans. Having served 8 years in the military, followed by 12 years as a police officer, James never imagined running an allergy clinic! "It's allowed me to continue to serve others while being able to work with my wife who is one of the most inspiring people I've met."
James and his family recently relocated from Wisconsin to the Charlotte/LKN area and already love it. "There's a strong connection to the veteran community and everyone is willing to help someone in need. Plus, I can still walk around in shorts and sandals and not freeze from the single digit or negative temps we dealt with in Wisconsin!"
MISSLES OUTSIDE BAGHDAD 4.2003
IRAQ 3.2003
BOOT CAMP 2.1998
BOOT CAMP 2.1998(1)
Favorite assignment:
Boot camp at MCRD, it's where everything started to change for me personally.
Why you love the job you currently perform:
I love being able to work and collaborate with my wife. She's one of the most inspiring people I've ever met and getting to see her think and create all the amazing things she does just makes me want to be better at whatever I'm doing. Also, coming from the Marine Corps and then being a police officer for almost 12 years I never imagined running an allergy clinic. It's something I thought was completely out of my range of skills but continuing to help people with allergies is just another way for me to provide a service for others. It's something I always loved about my jobs and it's something I get to continue to do with my wife.
What do you find the most challenging at Allergenuity Health?
One of the most challenging things we face at our clinic is education. We provide a very effective and scientifically-backed treatment for people with any kind of allergy (food or environmental) for people of any age (infant through adult) that is not offered by any large medical or academic institutions. Sublingual Immunotherapy treatment (SLIT allergy drops) is our primary form of immunotherapy, because it is the safest and most adaptable type of immunotherapy currently available, both research and clinical evidence support its efficacy in making positive changes in the immune system and reducing chronic medication use. It is really hard to let people know about this great option (especially for children under 4-5 for which there is generally no option) without a lot of skepticism about its effectiveness and safety in comparison to what are the main treatment options (medication/allergy shots for environmental or avoidance/oral immunotherapy for foods). One of our main goals in this clinic is education and we built our business model with education being a top priority. Each person who inquiries about what we do will get a significant amount of time speaking with my wife (the allergist) to make sure they're knowledgeable on their options and how what we do can benefit the patient. It can be time intensive but we believe the effort will help people make a more informed decision and help others make informed decisions as well.
What do you like most about Allergenuity Health?
There are so many things that I like about our clinic it's hard to nail it down in a paragraph or two. I guess the biggest aspect is that we are able to help people with so many different types of health issues, including many people who have been told they have no options. Children with severe eczema and food or environmental allergies don't have many and sometimes no options for relief, but we can actually help them with sublingual immunotherapy. We're also helping people who don't like what the standard of care is for allergy treatment. If you don't like frequent office visits, if you don't like dealing with your insurance company, if you don't like injections, or have a fear of severe reactions we eliminate all of those components at our clinic. We provide something unique, effective, and sought after and we're so happy to be in Charlotte to help anyone who needs it. The fact that we opened in July and we're already seeing patients from 12 different states is a big testament to who we are and the job we're doing so far. We can't wait for our full vision to be in place.
What is on your wish list for the next 10 years with Allergenuity Health?
Our next ten years is going to hopefully bring a lot of change. We want to grow into a full direct care multi-specialty practice. One where you pay a monthly fee and come to see any medical practitioner (dermatologist, ENT, general, pediatrician) under our roof whenever you need it. Basic care will all be covered under the monthly fee. You won't be rushed in and out of an appointment. We want you to feel like we have your best interest at heart and will collaborate with you and our team to find the solutions you need or that you're seeking.
We'll also eventually have options for people to see a nutritionist, a chiropractor, a massage therapist, or other health provider that you feel will help you be successful in your health and well-being. We want to provide learning opportunities for kids in school to learn what it's like to be a doctor, we want events for people to feel like they belong to a community so no one feels isolated or alone in their journey, we want to have the opportunity to provide our treatment to people who don't have the monetary means for it but truly need help, and a host of other ideas. All of these goals we're working towards are to bring healthcare back to a time when someone felt like a friend, when healthcare wasn't so complicated and costly, when healthcare was more about caring. We're just starting as an allergy clinic with a husband and wife team who is very skilled at this particular allergy treatment and who genuinely care to try to make things better.
What is the most important thing you have learned in the last five years?
The most important thing I have learned in the past five years is that you all matter, you're all capable, and you all have people that believe that about you too. I've done a lot of really cool things and people are always congratulatory of some of my accomplishments but I've dealt with self-doubt and insecurities all my life. I was a terrible high school student (barely graduated), terrible college student (never put in the effort, basketball was my sanctuary), and I really didn't have a direction I felt comfortable going into. I still deal with some of that today and I know there's no reason for me to think that way. One of the things that I've always had though was perseverance. I never stopped pushing forward or finding a way to make it to the next level and it has helped me tremendously in life. I joined the Marine Corps and gained world experience, became a police officer and learned how to communicate more effectively, went back to college in my 30's and graduated from the University of Virginia at one of the toughest undergraduate business programs in the US. Now I have had the privilege to open an allergy clinic with my wife and we are on our way to making both of our dreams come true and helping so many people along the way. If you never stop moving, you will never fail. You may take a step back, but those are just learning experiences. Keep moving forward and never give up.
James Schroeder
Allergenuity Health
(704) 750-0461
Website: http://allergenuityhealth.com
Email: [email protected]
Facebook: AllergenuityHealth